Related Links:
The Comics Bakery
My comics making teammates

RealmSend.com
My older comic site

Jax Epoch official site
All about the long running fantasy series.

Slave Labor Graphics
Publisher of Agnes Quill.

AiT/planet lar
Publisher of the Jax Epoch books.

Hollywood Comics
Rep for movie stuff.

Nickelodeon Magazine
I'm currently an associate editor there.


Art Collectives:


Anthology of videogame inspired art that I co-edit.




I contributed stories in volumes 3 & 4 of this amazing book series.




Web collective for kid friendly comics including Astronaut Elementary.


Ordering Mini Comics:
Tony Shenton Mini Comics Rep

Artistic Influences:
Jim Henson
J.Otto Seibold
Rodney Greenblatt
Diana Wynne Jones
Andi Watson
Hayao MIYAZAKI
Lane Smith
Sergio Aragones

Art Friends:
Raina Telgemeier
Michele Roman
John Green
Marion Vitus
Jason Ho
Jeff Zornow
Debbie Huey/Bumper Boy
Zack Giallongo
Steph Yue
Matt Hawkins
Scott Roberts
Justin Ridge
Matt Bayne
Ryan North/Dinosaur Comics
Caitlin Keegan
Steve Stamatiadis
Andy Ristaino
Full Sanction Comics
Jake Parker
Bannister
Ryan Sias
Tyler Page
Steve Stamatiadis
Jen Wang
Jacob Chabot/Mighty Skullboy
Bryan Lee O'Malley/Scott Pilgrim
Lea Hernandez
Jonathan Rivera
Johane Matte
Jef Czekaj/Sharhunters
M.K. Reed/Catfight
Todd Webb/Casual Poet
James Jean
Gina Biggs/Strawberry Comics
Mark Crilley
Erin Houlihan
Andy Runton/Owly
Secret Friend Society
Farel Dalrymple
Meathaus
Neil Babra
Meredith Gran
Dan Moynihan
Brent & Russ/KO Comix
Vitamin Steve
Toby Craig
Craig Thompson
Amy Kim Ganter
Kazu Kibuishi/Flight
Alisa Harris
Derek Kirk Kim/Lowbrite
Pants Press
Jannie Ho/Chickengirl Design Comixpress

Musical Friends:
Let's Audio
Tea in the Lobby
My Chemical Romance
Elisa Peimer
Reverend Tribble
Jordan Cooper
Harry and the Potters

Comics and resources:
The Beat: comics blog
Museum of Comic & Cartoon Art
Charles M. Schulz Museum
Rocketship in Brooklyn
Indie Spinner Rack
Kids Love Comics
friends of lulu
sequential tart
Comic Book Legal Defense Fund
Find Your Art School

Misc interests.:
UCB Theater
The Mighty Boosh
InSoc.org
www.informationsociety.us

Get Involved:
First Book
Working Families Party
Rock the Vote
Green Party
Comic Book Legal Defense Fund
HP Alliance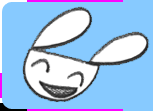 i